A new high temperature 3D printing machine on Axel'One PMI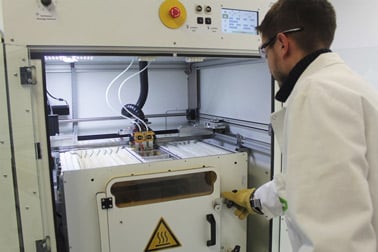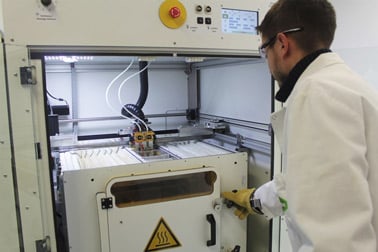 In December 2018, Axel'One set up on the Axel'One PMI facility (Innovative Materials Platform) a 3D printing machine by Fused Deposition Modeling (FDM) designed by the TOBECA start-up. This equipment was implanted in the context of the "Axel'One Printing" consortium focused on 3D printing of polymer materials and the partnership with the 3d.FAB platform.
This investment is supported by the Auvergne-Rhone-Alpes Region. The machine opens the way of 3D printing by FDM to the world of advanced polymers and composite materials thanks to a printing chamber with interesting sizes (300x300x250 mm) inertable and thermally regulated up to 250°C. This 3D printing machine is complementary to the existing tools of the 3d.FAB platform and more generally to the 3D printing facilities of laboratories and technical centers in the Auvergne-Rhône-Alpes Region. It becomes possible to control the printing of complex parts based on amorphous polymers of high glass transition temperature or semi-crystalline polymers of high melting temperature such as PEEK. Industrial users can move projects from the academic research scale to the pilot demonstration scale (TRL 3 to 7) on high value-added applications.
Axel'One Printing was created in open partnership with 3d.FAB. This is an academic platform for Innovative Technological Research (PTI) in 3D printing. 3d.FAB is hosted on the Axel'One Campus facility. 3d.FAB implements projects and develops technologies for many industrial and medical applications: 4D printing, bioprinting, photolithography, ceramic stereolithography, 3D extrusion. Its fields of expertise are in different sectors including biomaterials for regenerative medicine, tissue engineering and (bio)functional materials for medical applications.
The 3D printing machine is available to members of the Axel'One Printing consortium. The equipment will also be available for other companies or organizations. It will be open for new collaborative projects.
For more information, do not hesitate to contact us.