Many projects already achieved in industrial analysis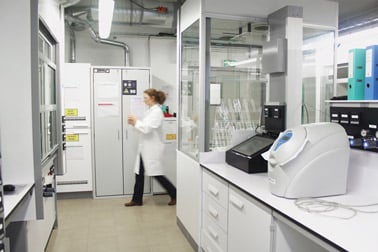 Since September 2016, Axel'One's industrial analysis platform (Axel'One Analysis) makes it possible to share skills and tools for R&D projects. Axel'One Analysis received a funding of €1.8 million over 4 years through the Future Investment Program (PIA) – Future Industrial Projects (PIAVE). This program is managed by the General Investment Commission (CGI) and is operated by BPI France.
The platform is led by Axel'One and a consortium of 8 industrial partners: Adisseo, Air Liquide, Arkema, Elkem Silicones, IFP Energies nouvelles, Servier, Solvay and Total. Axel'One Analysis offers expertise in online analysis, sampling and data processing. The platform also offers services to meet any requests from manufacturers and instrumentation suppliers. The three main thematics of expertise are : separation techniques; spectral techniques and chemometrics; physical and physicochemical sensors and polymer analysis. The platform consists of 128 m2 of laboratories with dynamic test pilots for gases and industrial liquids online analysis.
Since 2016 technological assessments and method developments have been carried out on online analysis issues for industrial end-users of the consortium. For example, Axel'One Analysis has worked on the evaluation of the industrial version of the PanAnalytical X-Fluorescence analyzer and the evaluation of Ondax's TeraHertz-Raman equipment.
Axel'One Analysis has also provided services for industrials and instrumentation suppliers (outside the consortium). The team provided technical support, onsite technical audits, technological assessment and analytical methodology. Several industrial users from polymers manufacturers, fine chemicals, special metals and technical textiles have trusted Axel'One Analysis. The platform has attractive online analysis laboratories for instrumentation suppliers. For example, Axel'One Analysis helped Apix Technology, Blue Industry and Science, Bertin Technologies to develop and optimize their analyzers.
The team participated in many events in Europe to promote the platform. For example, Axel'One Analysis is part of the Micro Chemical Sensors Club (CMC2) coordinated by the Mines de Saint-Etienne's engineering school. The team also participates in international conferences organized by the Centre for Process Analytics and Control Technology (CPACT, United Kingdom). Axel'One Analysis is also present every year at the Industrial Analysis Exhibition in Paris with a stand and workshops on technological innovations. In June 2018 in Frankfurt the team was at the international ACHEMA Exhibition for the chemical engineering and process industry.
Axel'One Analysis is involved in two projects with the LPSE (Lyon Polymer Science Engineering) consortium about online characterization of polymerization reactions using innovative technologies. For the future, Axel'One Analysis is working on structuring a multipartner project around intelligent industrial analysis. This project will combine technological developments and innovative approaches for process optimization.
Since 2016, the tool park has expanded. You can find all the equipments available on the "Shared skills and tools in industrial analysis" document