LGPC and Processium set up their joint laboratory on Axel'One Campus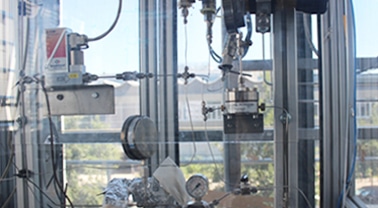 The Catalytic Process Engineering Laboratory (LGPC) and the company Processium have just set up their activities on Axel'One Campus in the spring of 2019. They carry out projects around the acquisition of process data in their joint laboratory.
The LGPC (under the supervision of the CNRS, CPE Lyon and the University of Lyon 1) and Processium, specialized in process design, have been working together for several years. They decided to strengthen their collaboration by creating their joint laboratory called DATAFAB.
The objective of this Intensification Laboratory for Process Data Acquisition is to increase the competitiveness of companies in the chemical and related sectors using innovative technologies for rapid and reliable acquisition of process data and intensified reactors.
The joint laboratory has set up most of its equipment on Axel'One Campus. The experiments can be done over long periods of time (up to 24/7) with large samples and concentrates a set of technologies all in the same place. The laboratory has several tools at its disposal, such as micro-reactors. Several people from the LGPC and Processium teams are present on Axel'One Campus. Thanks to the skills of the two partners and the LGPC equipment, the joint laboratory can work on industrial cases with extremely fast and very exothermic reactions.