Galtenco is located on Axel'One PPI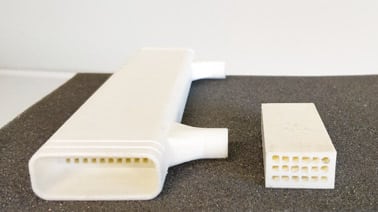 Example of a monolithic reactor-exchanger structured against the current. Overall model (left) and detail of the reactor core (right).
The company is based on the Axel'One Innovative Processes Platform (PPI) in Solaize since automn 2018. Galtenco is specialized in the design and manufacture of chemical reactors. On Axel'One, the company is developing a new pilot.
Founded in 2012, Galtenco is located in France on the IRT Saint-Exupéry on the ENSAM Bordeaux campus. There is also an office in the United States, in Norwich, Vermont. Since autumn 2018, the company is also based in Solaize (south of Lyon) on the Axel'One PPI site. The company currently employs five employees at the Bordeaux site, two in the United States and one on Axel'One.
Galtenco's activity is based on the design and manufacture of monolithic chemical reactors of arbitrary shapes and sizes in various materials (ceramic, metallic or glass), well and suited to intensification of processes. Its manufacturing process is using ovens with unique performances and a proprietary technique for intelligent mould manufacturing based on additive manufacturing techniques. The design of reactors, their moulds and the optimization of the manufacturing cycle is carried out using digital simulation tools developed by Galtenco on the basis of the OpenFoam library. There are many possible applications, including hydrogen production, partial oxidation reactions, biofuels, fine chemistry, particularly in the presence of organometallics, and fluorinated derivatives.
On Axel'One, Galtenco will develop the CESAR pilot in partnership with Adisseo. This pilot benefits from these breakthrough technologies. Other pilots will be implemented on the platform as Galtenco develops its application portfolio. The next one, in September 2019, will be a characterization bench for the detailed study of homogeneous combustion in confined geometries. Galtenco also benefits from Axel'One's environment to develop these commercial relationships. For example, the company recently joined the Axelera competitiveness cluster.
To know more about Galtenco: contact Manuel Baca